The World Bank, Food Security update (July 2022 ):
Domestic food price inflation remains high around the world. Food price inflation exceeded overall inflation in 78.7% percent of the 160 countries for which food Consumer Price Index (CPI) is available.
Ukraine's war threatens poor countries with overlapping food and debt crises. 93.8 % of low-income countries, 89.1% of lower-middle-income countries, and 89% of upper-middle-income countries have seen inflation levels above 5%, with many experiencing double-digit inflation.
All our food systems are buckling under the stress of rising temperatures, wildfires, droughts, and floods.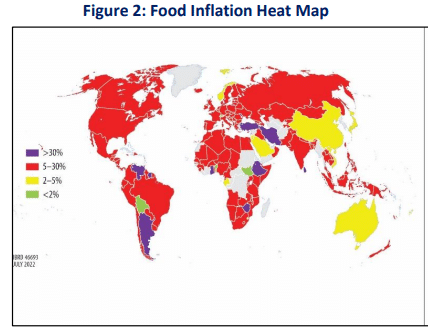 Globally, food is lost or wasted at about the same rate. According to the UN Food and Agriculture Organization, one-third of edible food produced for human consumption is lost or wasted each year.
Monitoring temperature and humidity during all different processing stages, pasteurization, storage, and distribution phases can reduce waste and ensure the life shelf and product quality.
Fourtec's high-quality, plug-and-play data loggers provide a simple and affordable monitoring solution that can assist in reducing food loss and waste in all stages of growing and producing food, from food post-harvest to transport, food processing, storage, and last-mile delivery.

Information source : https://thedocs.worldbank.org/en/doc/40ebbf38f5a6b68bfc11e5273e1405d4-0090012022/original/Food-Security-Update-LXVII-July-29-2022.pdf?cid=ECR_LI_Worldbank_EN_EXT_profilesubscribe